Documentation
Six910 consist of three parts, the MySQL database, the back-end REST services and the UI. The UI and the REST back-end are available as Docker images. Follow these steps to install Six910:
Install Steps:
Get the database schema here and install on a MySQL server.
Get the REST back-end here and install on a docker server.
Get the UI here and install on a docker server.
Docker environment variable must be set on both the back-end and the UI. They are:
REST back-end environment variables
SIX910_DB_HOST is the database IP address or host name
SIX910_DB_USER is the database username
SIX910_DB_PASSWORD is the database password
SIX910_DB_DATABASE=six910 is the database name
SIX910_API_KEY is the API key used for some services and can be any long string of characters and numbers
UI environment variables
API_URL is the URL of the REST back-end install in step 2
API_KEY is the same API key used on the back-end
EMAIL_HOST is the email host used to send emails
EMAIL_USER is the email server username
EMAIL_PASSWORD is the email server password
EMAIL_PORT is the email port used
MAIL_SENDER_ADDRESS is the email address used when sending emails
MAIL_SUBJECT_ORDER_RECEIVED is a custom email subject used for order emails
COMPANY_NAME is the name of your company or cart site used in emails
SIX910_CART_SITE_URL is the site URL used when generating sitemap.xml
Logging in to Six910
Log into the admin section of your cart using the following steps
Use default username admin
Us default password admin
Change the password to something secure.
Admin Dashboard
This is a the admin dashboard that you should see after login: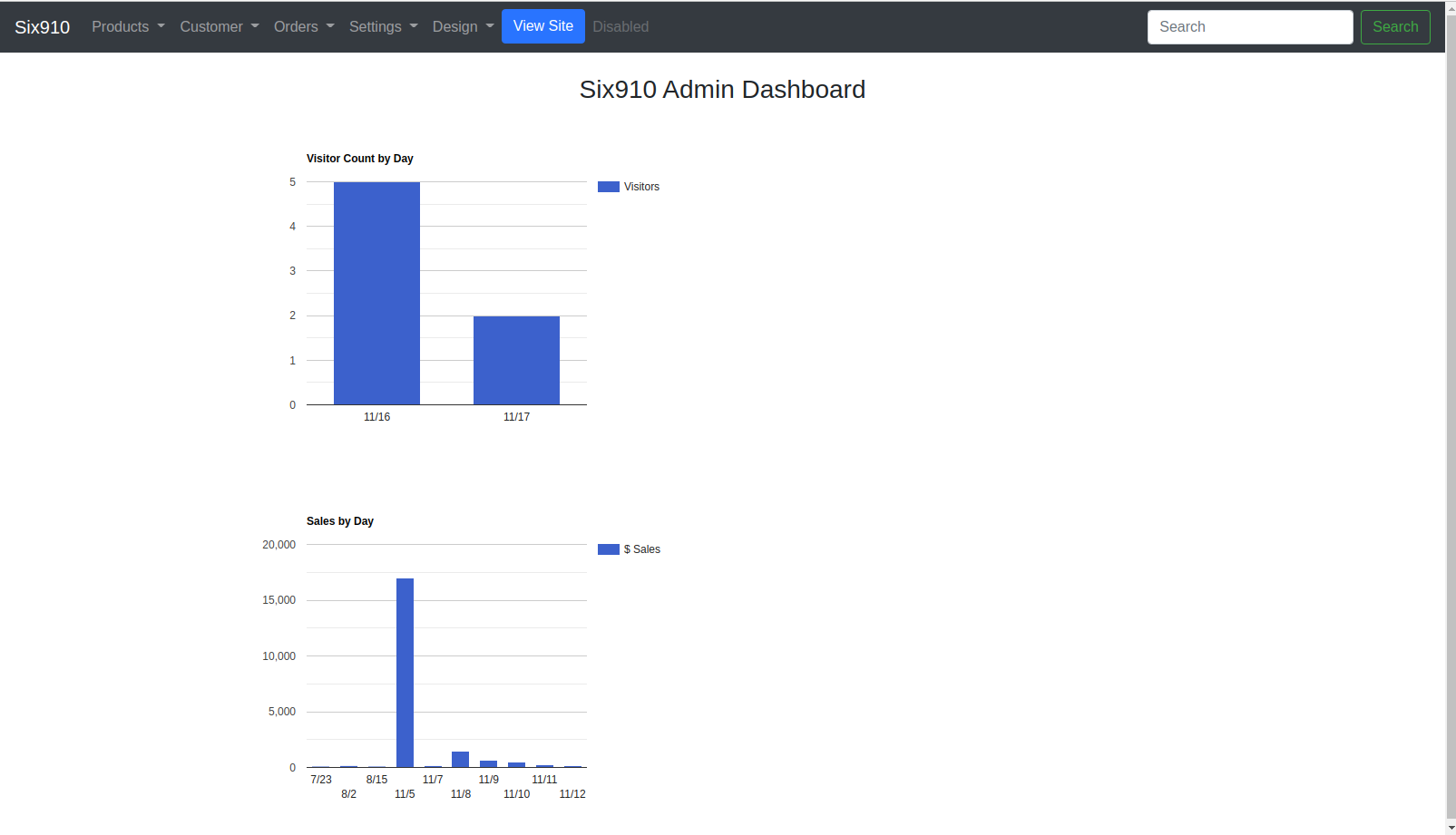 Site Screen
Press the View Site button and see the site: